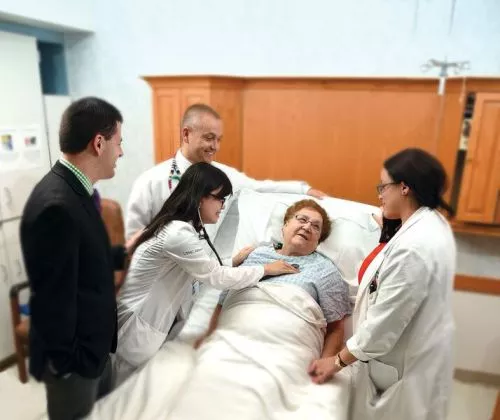 Since 1975, Altoona Family Physicians has provided quality family medicine training for Central Pennsylvania and beyond.
Our program is dually accredited and approved by the Accreditation Council for Graduate Medical Education (ACGME), the American Osteopathic Association (AOA), and the American College of Osteopathic Family Physicians (ACOFP).
Our 8-8-8 residency program is the sole residency at UPMC Altoona, and we offer a broad clinical experience in an enriching academic environment with an emphasis on obstetrical, inpatient, and outpatient medicine. Residents spend ample time in the hospital and office while allowing for an appropriate work-life balance. They receive excellent training in obstetrics and women's health through our resident-run Pregnancy Care Center and Women's Health and Wellness Center.
Our dynamic faculty members are dedicated to teaching the principles of family medicine.  In addition to our 15 full-time family medicine faculty members, our core faculty also includes a full-time obstetrician, a dedicated behavioral scientist, and several CRNPs/PAs. Many additional adjunct faculty aid in providing a superior experience for our residents.  Our faculty have diverse clinical backgrounds with specialty training in Hospice and Palliative Medicine, women's health, obstetrics, addiction medicine, faculty development, osteopathic manipulative therapy, college health, sports medicine, leadership, and others.  We also enjoy excellent collaborative relationships with our specialists, including our local obstetricians and pediatricians.
Elective rotations can be arranged within the United States and internationally.  We offer numerous curricular areas of concentration (similar to tracks) that allow residents the ability to shape their training. Our rural medicine area of concentration lets residents do their final two years of continuity clinic in our rural offices. Residents can also design their own area of concentration in other areas such as obstetrics, sports medicine, aesthetics, OMM, global medicine, leadership, and others.